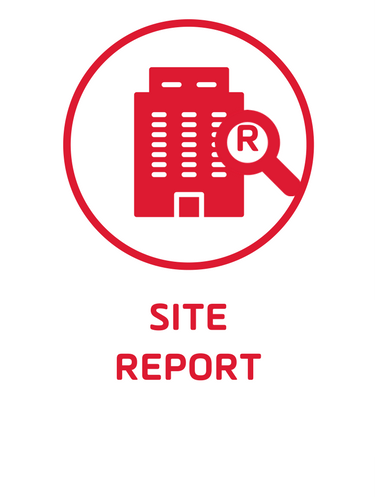 Similar to the Geofence Report, the Site Report shows how many times your vehicles have visited a particular location. However, unlike the Geofence Report which only reports on previously created Geofences, the Site Report can be used to backdate on any location a vehicle has stopped, even when there is no geofence.
The Site Report can be run on all assets, individual vehicles or groups, and shows the total time spent on site as well as the travel time and travel distance to that location, and the arrival and departure times.
This report is useful to backdate reports on a particular address. For example, if you spot a driver visiting an undesirable address (visiting their home address or a pub during work hours), then run the site report to see if this is frequent behaviour that needs to be addressed.
MIDI and OMNI customers will find a Site Report link on the Stop Report (as shown below), so you can report more in-depth into a particular location on your stop report.
Note: The vehicle needs to be stopped at the location to appear on the site report. To see if a vehicle has been near a location or perhaps driven past but not necessarily stopped, use the location report.
______________________________________________________________________________
To run a site report, follow the steps below:
Step 1
From the side menu, select Reporting, then under Advanced Reports, select Site Report.
Step 2
Select the Asset or Group of assets you would like to run the stop report on (this can be all your assets).
Step 3
Select the date range you would like to report on.
Step 4
Select the format you would like the report in (Web, Printer-friendly PDF or CSV).
Step 5
Enter the address of the site you would like to report on. As you start typing it will dynamically search for the address).
Step 6
Enter the distance around the site address you would like to report on (by default this is 200m). For example, the default distance of 200m will report on all stops made within 200m of the address.
Step 7
Press the blue Run Report button to create your report.
You can also run a Site Report directly from the Spectate map...
The Site Report can be run from the spectate map. Simply right click on the map to do a site report from any longitude or latitude....not just an address.
Helpful for customers who operate off of public roads or across large sites.