The Check Sheet Reminder system allows you to automate notifications to remind your drivers to complete a check sheet on their specified vehicle if they have not completed it prior to the due date, and automate notifications to the appropriate team member if the check sheet becomes overdue.
The reminder settings are specific to each check sheet, so you can easily set up separate reminders for multiple check sheets which have different requirements in the frequency of their completion (e.g. a monthly, semi-annual, and annual vehicle inspection).
If you have any questions regarding how to set up check sheet reminders please get in touch with your Argus Account Manager and they will be happy to help.
How to set up a Check Sheet reminder or overdue alert
Step 1
Select Check Sheet Reminder/Overdue Alert
Step 2
Click 'next'.
Step 3
Select which check sheet template the alert relates to (as different check sheets may have different frequencies in which they are due).
Step 4
Click 'next'.
Step 5
Select the asset or group of assets you want to be notified on.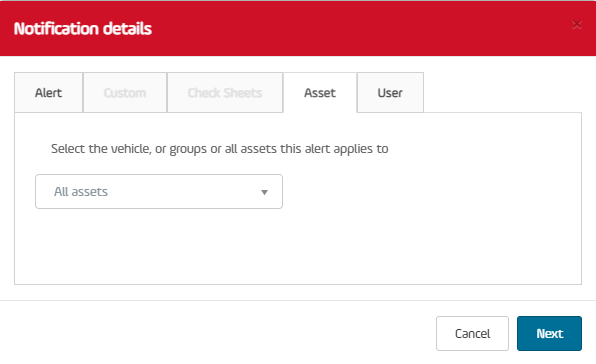 Step 6
Click 'next'.
Step 7
Select the user who will receive the notification, and whether they will receive the notification via email, app, or both.
Step 8
Click Save.